The AZEK® Company is an industry leader of premium building products that replace traditional materials and provide value through lower maintenance, refined aesthetics and reduced total cost. Our commitment to innovation, sustainability, and research and design is at the core of who we are. The AZEK Company is headquartered in Chicago, IL. We also operate highly automated manufacturing facilities in Scranton, Pennsylvania, and Wilmington, Ohio. We take pride in our state-of-the-art science, integrated manufacturing technologies, and robust product lines. Combined with sales, marketing, brand, and distribution strategies, our industry expertise allows us to stay agile and scale our business to meet demand.
The key to our success is not only generating value through our products, it also lies in our commitment to our employees as well as our broader communities and ecosystem. We take pride in our sustainability efforts by using clean manufacturing to create recycled and recyclable products.
RESIDENTIAL: AZEK BUILDING PRODUCTS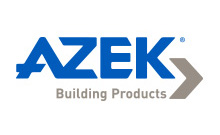 AZEK Building Products offers superior, high-performance residential building products which include AZEK® and TimberTech®. Both premium brands utilize engineered materials to deliver low maintenance, lower-cost, extremely durable products. Our collection includes AZEK® Trim, AZEK® Deck, AZEK® Moulding, AZEK® Rail, AZEK® Porch, AZEK Pavers and TimberTech® Decking and Railing. We like to say that AZEK Building Products lives at the intersection of science and style. All of our products are engineered to last beautifully.
AZEK® is predominantly comprised of cellular PVC, which outperforms and mimics the look of traditional wood. AZEK® Trim was our first product line, born in 2001, and has since expanded into other product offerings including, deck, railing, porch, pavers, and moulding. For more on the AZEK®, please visit AZEK.com.
TimberTech® is like wood, but stronger. It encompasses wood composite and capped-wood composite decking, making it an equally long-lasting alternative to traditional wood decking. The boards' core is made of a combination of recycled wood and plastic, and is surrounded on all four sides with a protective cap. For more information about TimberTech®, please visit TimberTech.com.
COMMERCIAL: SCRANTON PRODUCTS

Scranton Products, manufactured in Scranton, PA, is our commercial division, offering a line of superior synthetic commercial HDPE building products used in bathroom and locker-room applications. They are marketed under the Aria Partitions, Eclipse Partitions®, Hiny Hiders®, Tufftec Lockers®, Resistall Partitions®, Duralife Lockers®, and Eclipse Partitions®.
At Scranton Products, we strive to reduce our ecological footprint. Our products are LEED certified and all of our brands are GREENGUARD Gold Certified. This means they meet the strict certification requirements and important safety guidelines. They are also 100% recyclable. For more information about Scranton Products, please visit ScrantonProducts.com.
INDUSTRIAL: VYCOM

VYCOM, also based in Scranton PA, markets and manufactures PVC and Olefin solutions for industrial use. Our line includes: CELTEC, CORRTEC, FLAMETEC, PLAYBOARD, SEABOARD, SANATEC, and DESIGNBOARD. These products are used in a variety of applications and industries such as marine, graphic display, playground equipment and semiconductors.
As with our other divisions, they are designed to replace wood, metal, and other traditional materials. Our concern and respect for the environment is evident through our continued effort to introduce and produce sustainable products. For more, please visit VycomPlastics.com.
Business Units
Residential
BUILDING MATERIALS
COMMERCIAL
BUILDING MATERIALS
INDUSTRIAL
BUILDING MATERIALS