The AZEK Company is committed to innovating, inspiring, reinventing, revolutionizing and leading our industry to create a more sustainable future. We offer low-maintenance, beautiful outdoor living products leveraging innovations in material science to offer our customers world-class, environmentally sustainable solutions.
Headquartered in Chicago's Fulton Market neighborhood, The AZEK Company is nestled in the same thriving business district that houses other leading corporations such as Google, Dyson, and Glassdoor. The AZEK Company also operates highly automated manufacturing and recycling facilities in Ohio, Pennsylvania, and Minnesota, and recently announced a new facility will open in Boise, Idaho.
CREATING GOODS THAT DO GOOD
We wholeheartedly embrace a responsibility to sustainability and seek to always act with purpose. We are committed to pursuing initiatives that positively impact our products, our people and our planet. Like leveraging our R&D strengths to introduce products that increasingly utilize recycled materials and tapping our culture to positively impact employees, customers and communities alike. And, committing to set ambitious targets like using 1 billion pounds of recycled material, annually by the end of 2026, in the manufacturing of our products and reducing the carbon footprint across our value chain in alignment with climate science.
Our success is fueled by the ideas and dedication of our team and we are committed to providing a diverse, equitable and inclusive workplace where diversity of all kinds is sought out, valued, respected and appreciated. We have an unwavering customer-centric focus. Our responsibility is to understand customer expectations, then surpass them. We are also committed to working with business partners and suppliers whose values and practices mirror our own.
At The AZEK Company, we look at the full-circle and we bring things full-circle. Why? Because, we seek to revolutionize outdoor living to create a more sustainable future.
Beautifully Engineered to Last
We are the industry-leading manufacturer of beautiful, low-maintenance and environmentally sustainable outdoor living products, including TimberTech® decking and Versatex® and AZEK Trim®. We are deeply committed to making a lasting impact on the world by accelerating the use of recycled materials.
Product Innovation
Over 100 patents granted across residential and commercial businesses.
First to offer Alloy Armour Technology™ in our capped polymer decking to prevent fading and staining.
First in the market to offer Multi-Width Capped Polymer Decking to revolutionize the category.
Unique exterior products developed for specific applications to save time on the job.
Developed proprietary PaintPro® technology for better paint adhesion and faster cure time.
Robust pipeline of innovative new residential and commercial products.
AZEK Building Products Timeline of Innovation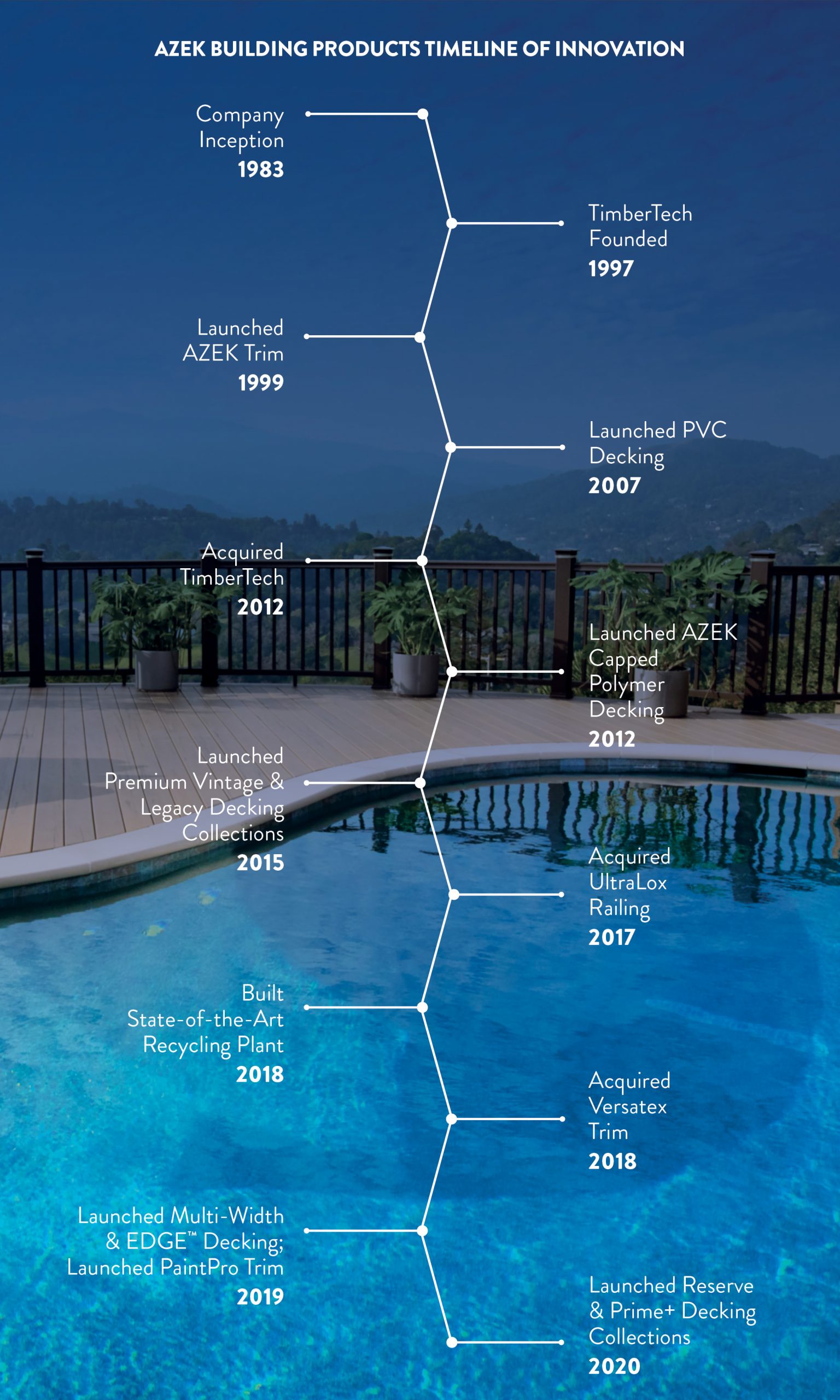 Awards
Chicago Tribune
Our amazing colleagues continue to inspire and revolutionize our industry. And they're the foundation of an award-winning culture that's made us one of Chicago's Top Workplaces!
INC. Magazine
AZEK is recognized as a company that is agile enough to maneuver and big enough to have a broad impact with a leadership team that is customer-centric, breaks through markets, creates value, drives results and performs at a high level.
HBSDealer
TimberTech Landmark Collection and AZEK Shingle Siding with PaintPro Technology named the best-of-the-best of home improvement products.
Fast Company
AZEK's FULL-CIRCLE PVC Recycling™ program receives honorable mention on Fast Company's World Changing Ideas 2021 list.
LMC
AZEK Shingle Siding with PaintPro Technology named a Best New Product of 2021 at LMC Annual Meeting.
Green Builder Media
2021 Green Innovation of the Year
Green Builder recognized AZEK's professional on-the-ground recycling program, FULL-CIRCLE PVC Recycling, for accelerating the use of recycled materials in construction and diverting waste from landfills.
Houzz
TimberTech won Houzz's Best of Design for four years in a row (2017-2020)
Qualified Remodeler
2020 Outdoor Planning Guide: Buyers Guide
TimberTech AZEK's Vintage, Harvest, and Arbor collections are featured, along with multi-width decking and the lifetime-limited warranty
Dwell
Dwell calls out the new Pro Reserve Collection, focusing on sustainability by noting that it is made with 80 percent recycled material
LBM Journal
Hot Products From the 2020 International Builders' Show
The SIDELoc Fastening System by TimberTech made the list of the hottest products from the 2020 International Builders' Show (IBS)
Pro Remodeler
TimberTech AZEK's Vintage Collection, and notable multi-width decking, contributed to the brand landing at #5 on Pro Remodeler's Top 100 Products list
Vinyl Sustainability Council
The Vinyl Sustainability Council recognized AZEK for its increased use of recycled materials, innovative sourcing, and manufacturing processes in its TimberTech AZEK decking product line.
Home Builder Executive
2020 Partner of Choice
The magazine recognized AZEK Exteriors' trim, moulding, and siding for their unrivaled durability, easy installations, and unique design innovations.
International Association of Plastics Distribution
2020 Marketing Excellence Award
The trade association honored Vycom's commitment to promoting the positive benefits of performance plastics.